TULA gatherings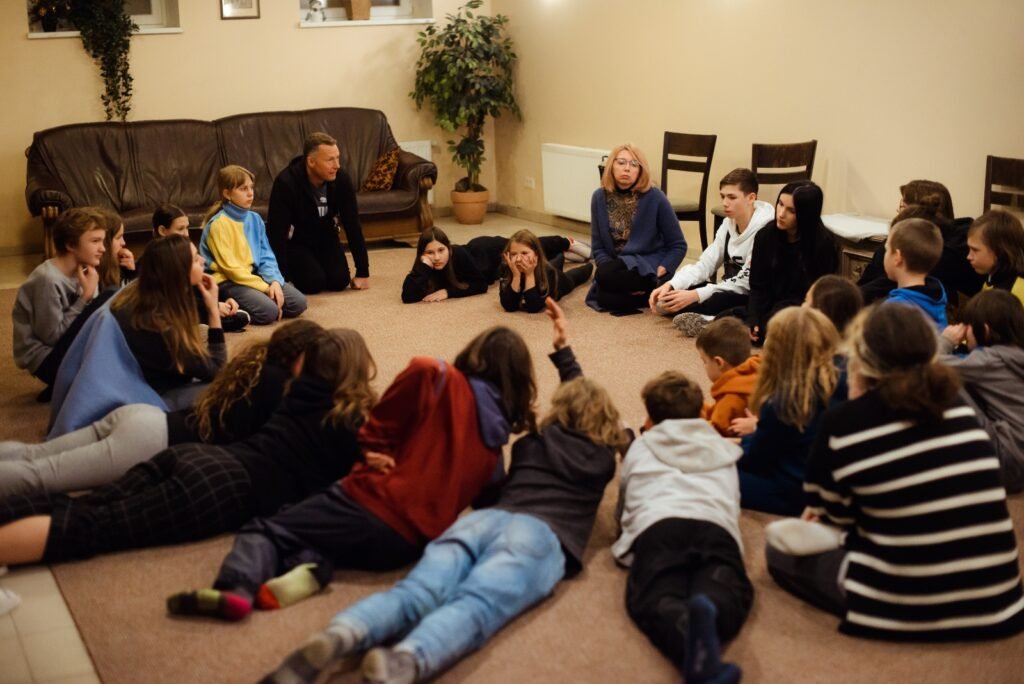 Svitlana Zaluzhna speech at the President's Prayer Breakfast
I am grateful that I can speak my native language today.
My name is Svitlana Zaluzhna, I came to Lithuania on March 17 with my three children. I remember it was Thursday, and on Monday my children went to Lithuanian school, and I, together with other Ukrainian activists, worked on how to help Ukrainian families.
Before the full-scale war, back in Ukraine, my husband and I founded a project aimed at supporting, developing and preserving Ukrainian families. At that time, I could not imagine that it would be so timely and I definitely did not plan that the word "preservation" would be not only about roots and traditions, but about the real preservation of the life of a Ukrainian family.
Today I have to tell you my story, but my story is a lace of stories of hundreds of Ukrainian and Lithuanian families, with whom and for whom my team and I do wonderful things here in Lithuania.
The first months of the war are my personal story of "frozen life". In order to have a common reality with my family, with my country, to have a common pain – I did not allow myself and my children to live, I remember how in March I did not allow my children to joke and laugh. I was annoyed and ashamed that they could live so easily, just live. While other children are in occupation.
But they are children!
Then there were the tragedies of Bucha, Irpen and Mariupol.
With them came unbearable pain and a new beast – the feeling of guilt for not being there, not with your country. It devours all vitality and faith in a person.
But this pain has another side. It raises such inner strength and I decided that I can heal myself only by helping others. I have to get up and do what I love, what I believe in.
All my life I believe in Love, in Beauty, in Light and in Humanity.
And I went to act, speak, ask, write.
In April, I wrote a project and received support from donors and in June we started working on a project aimed at joint integration and cultural enrichment of Ukrainian and Lithuanian families. I am still convinced that this is a unique Lithuanian story in Europe.
At a time when there is a war and all resources are directed to humanitarian and military aid, someone believed me and decided that it is important.
I wanted to create and now I am sure to restore the deep ties of our nations. For Ukrainians and Lithuanians to see each other, hear stories, be surprised, laugh and mourn together. Integration of one nation into another can only be joint, people must fall in love with cities, people, culture and be enriched by this experience.
I don't want it to be my own story, because I have a whole team of Ukrainian and Lithuanian like-minded people, and together we organize family programs all over Lithuania. Every month we gather Lithuanian and Ukrainian families, hundreds of parents and children for three days together to create a miracle of healing, strengthening, bonding.
I see every time how happy these people leave us. It is as if they have discovered a new world.
Every month we hold several cultural and educational events in different cities of Lithuania. Each event is a separate project that is worth talking about separately. For example, the performance "Women's diary. War" is based on the stories of women who survived the occupation. We will show it for the third time, because there is such a great demand.
But the most precious thing we have here is the dialogue. Dozens of hours of dialogue between Lithuanians and Ukrainians on uncomfortable topics, we rethink the experience of war together. But we also enrich ourselves culturally.
Every Ukrainian in our project is an ambassador of Lithuania. I myself can give a lecture about Čurlionis.
This is what we do.
I want to tell you something that you can do, but you may not know about it.
Lithuania is unprecedented in supporting Ukraine. I mean the way you have accepted us on the level of person to person, people to people.
You have created a culture of treating Ukrainian refugees as equals, the opportunity for professionals to continue working in their professions, studying in Ukrainian schools, opened access to grants, donors, cultural projects, concerts, streets literally repainted in the national colors of Ukraine.
You have shown us that what we are fighting for, what we are shedding the blood of our children for, is not just a declaration of European values – it is the way you live and act towards people: Freedom. Dignity. Democracy. Humanity. Love.
I am sure that Lithuania is unique in this and could be an example for other European countries.
Today we are talking about POWER. For me it is about the power to act, the power to choose Love, to choose Life.
We are talking about HOPE, for me it does not come from the news, it is created by Faith.
FAITH DOES NOT NEED REASONS, PROOFS. FAITH DOES NOT LIVE NEXT TO DOUBT AND FEAR.
If I can ask you today, I ask you:
Please do not give up your faith in the Ukrainian people, continue to believe in our Victory. Because it is the victory of light over darkness.
Thank you.
Glory to Ukraine